facilities
Nadivana Serviced Apartments - facilities and services
Combining beautiful surroundings with superb cuisine, Nadivana Serviced Apartments provides guests with a variety of sumptuous delicacies to satisfy even the most discerning of palates.
The open air restaurant and swim-up bar will delight you with their creative blend of Eastern and Western delights.
At the end of the day relax in the pool with a sunset cocktail or, if you prefer some intimacy, call room service and be served in your room, the choice is yours.
Restaurant
Thai food, renowned worldwide for its addictive flavors, its variety of vegetables, meat and seafood dishes, is one of the main reasons visitors enjoy coming to Thailand.
At Nadivana, you can sample specialties from all over the country at any time of the day. We also have an extensive Western menu and cater for vegetarians so we feel assured we can meet the needs of all our guests.
Our restaurant is open on two sides allowing direct observation of the pool area at all times. You can relax and enjoy our chefs' inspired combinations and creations, either poolside or indoors, knowing your children are never out of sight.
Pool Bar
Nadivana Serviced Apartments boasts two swimming pools measuring 430 m², submerged sofas, Jacuzzis and water slides. Being a family run business we understand the need for child supervision at all times and so the children's pool can be observed from both the swim up bar and the restaurant. You can relax and enjoy tempting Asian 'tapas' and light snacks in a relaxed and tropical atmosphere whilst the little ones play on the water slides. Ever imagined yourself holidaying in Thailand and soaking in the pool with your favorite drink in your hand? At Nadivana this is mandatory.
The pool bar opens at 11 am and our bartenders delight you with alcoholic and non-alcoholic drinks, no matter if you are sitting inside or outside the pool.
Massage & Beauty
Treat yourself at our massage and beauty salon. Accredited and certified masseuses skillfully relax and beatify your skin, body and soul. Make a reservation at the front desk or directly at the salon. Opening hours: 8 am - 11 pm
Room Service
Sometimes it is pleasant to just relax in your room and have some time on your own. Hence we offer an extensive room service menu prepared in our restaurant and brought to your room. Whether it is a sunset cocktail on the terrace or a full Asian banquet your desires are only a phone call away.
Every apartment has a kitchenette with well stocked fridge and bar. Order your necessities through room service and we will have them delivered to your apartment.
Maid & Housekeeping
Our maids will clean your apartment daily, as well as restock your minibar and other amenities. Every apartment has a kitchenette with well stocked fridge and bar. Order your necessities through room service and we will have them delivered to your apartment.
The apartment is cleaned seven days a week. Towels and linens are changed daily and our maids are on duty from 7 am to 10 pm for additional assistance.

White towels are solely for use within the apartment and are not to be taken outside.

Pool towels are available free of charge at the front desk.
Furniture & appliances
Your apartment comes fully furnished and includes deck chairs and an outdoor table for private use. Every room has individually remote controlled air condition as well as cable TV and a DVD.
The kitchenette is equipped with a microwave, heating plates, water boiler, various cooking utensils and a stocked fridge that we replenish daily.
Swimming pool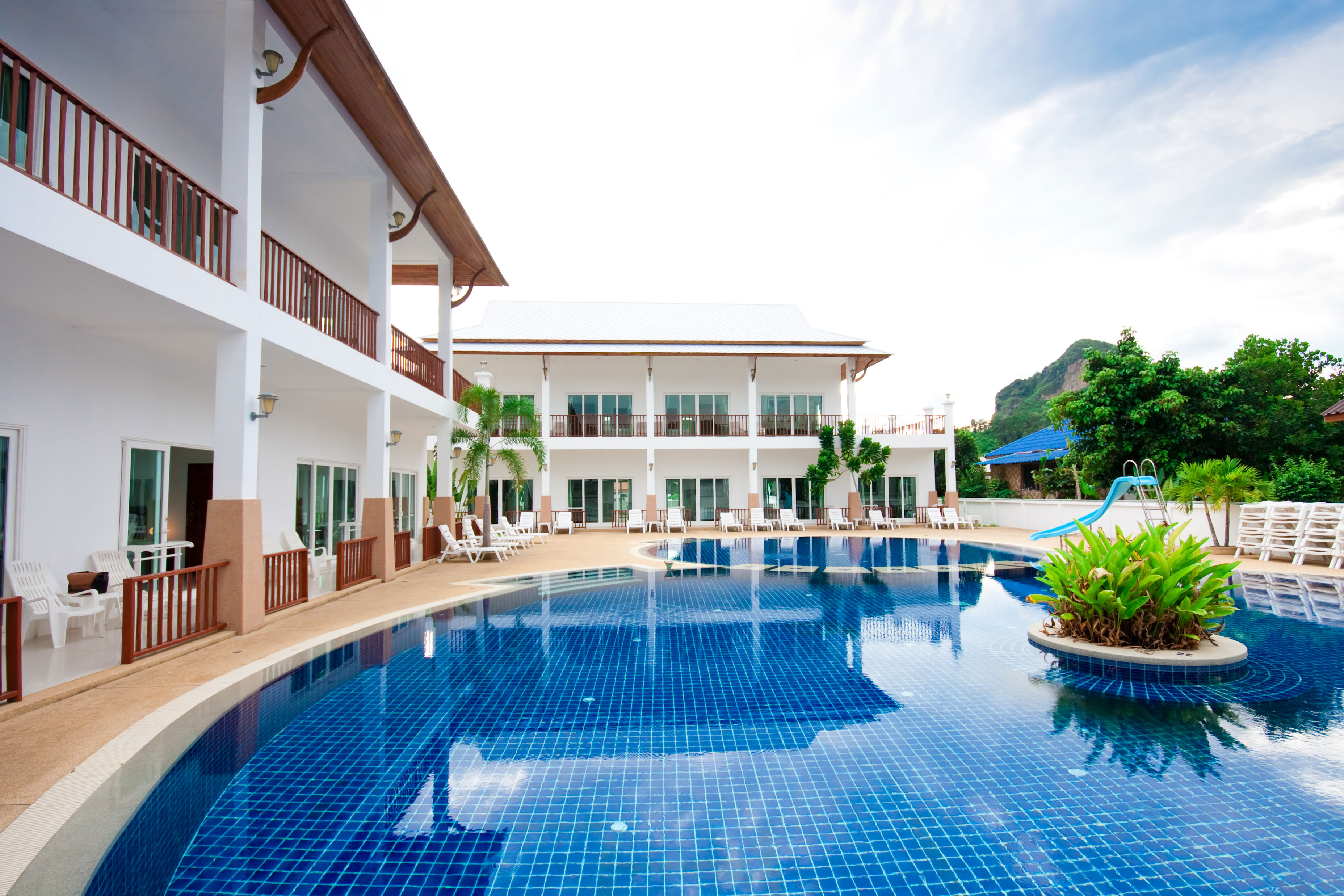 The pool area is a public area for use and enjoyment. Please read and respect the rules that are on the wall of the pump house. When using the pool between 10 pm and 8 am, please show consideration for other guests that wish for peace and quiet.
Restaurant
Our restaurant offers Thai, Western and vegetarian dishes. Open 8am to 8 pm.
Pool Bar
Our bartender will delight you with drinks, inside or outside the pool. Open from 11 am.
Massage & Spa
Accredited and certified masseuses relax and beatify your skin, body & soul. Open: 8 am to 11 pm
Room Service
We offer an extensive room service menu between 8 am and 8 pm.
Maid Service
The apartments are cleaned daily.
Laundry Service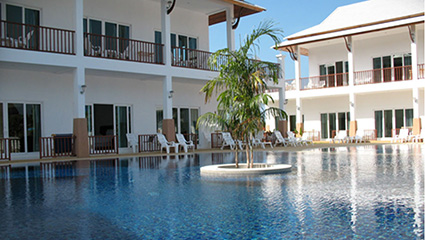 Our laundry effectively handles all your cleaning and dry cleaning needs at and affordable rate. Bring us your dirty laundry in the morning and we return it cleaned and ironed by the next morning.
Library
In our library you will find books, magazines, newspapers and DVD's in various languages. Everything is for your enjoyment and free of charge.
Babysitting Service
We arrange for experienced & qualified babysitters for children of all ages.
Car & Motor Bike Rental
Available for short and long term rent.
Payment
We accept all major currencies and most credit cards.
Shopping
Ao Nang's shops are filled with all kinds of temptations and products. Remember to bargain hard as initial prices are high. The most advantageous articles to buy are optical products and tailored clothing.